WHEN WE THINK OF CENTRAL ASIA, MANY OF US WOULD BE HARD-PRESSED TO QUICKLY NAME TODAY'S FIVE INDEPENDENT REPUBLICS, NOT TO MENTION ENUNCIATE WITH ANY SORT OF CADENCE.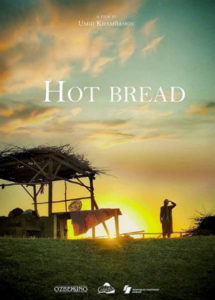 The region's vast geographical influence hails from Russia and Siberia, beautified by the Caspian Sea, often characterized as the "world's largest lake." Comprised of former Soviet republics, Kazakhstan, Kyrgyzstan, Tajikistan, Turkmenistan and Uzbekistan, the central demographic has reached a population of approximately 72 million according to current census. Its ancient theatrical culture that once spread over a massive area, would endure the end-roads of the Soviet period expansionism, as well as post-Soviet era and though Afghanistan is not generally considered part of Central Asia, when it is, the population rounds off at nearly 120 million.
After the 1991 collapse of the Soviet Union, cinema and theatrical arts in Central Asia struggled to reach the kind of entertainment experiences that were enjoyed throughout the rest of the continent, particularly cinema exhibition. Of the 48 countries in Asia – China and India each carry a billion-plus populous and both have a dominant exhibition market. Whereas, other emerging markets like Turkey, South Korea and Pakistan are creating landmark records through innovative expansion efforts, and Saudi Arabia opened new cinema frontiers that had long been dormant. Proving cinema exhibition's growth is a valuable instrument in economic and social globalization, especially with the surge of creative content being produced worldwide and its widespread distribution, particularly over the Asian continent.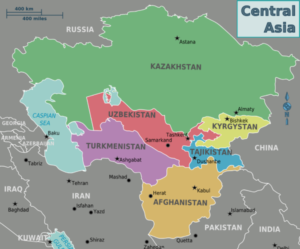 Delving into this historically unique area, some significant numbers have begun to reach pinnacle records in movie entertainment – beginning with Kazakhstan, the third largest film market in the CIS behind the Russian Federation and Ukraine. In 2017, the Kazakhstan Pavilion debuted at the Marché du Film during the Cannes International Film Festival, chiefly supported by the Ministry of Culture and Sports of Kazakhstan and the Kazakh Embassy in France. The Pavilion offered an in-depth look into the cooperation and initiatives of a vigorously growing Kazakhstan film business and their modern-day distribution and production infrastructure that's broadening opportunities to foreign distributors and producers.
Kazakhfilm that began as Alma-Aty Film studio in 1934, produced Kazakh's first movie, Amangeldy in 1938, and managed to sustain through Soviet reign. Today, Kazakhfilm continues developing under private investments and the Ministry, recognizing Kazakhstan has become a popular centerpiece for annual forums like the Eurasia International Film Festival, ranked Central Asia's largest film industry event and accredited by the International Federation of Film Producers Associations. The festival draws major film producers from the likes of NBC Universal and Lionsgate, and Global Film Solutions has begun to focus on film shoot locations due to increasing stability. The Almaty International Film Festival, the newcomers, have also gained more attention and the festival's President, Akan Satayev, proclaims the region is "experiencing an unprecedented era of transformation," and filmmaker professionals are beginning to recognize "what Kazakhstan cinema is" and the cultural impact it has on a national level.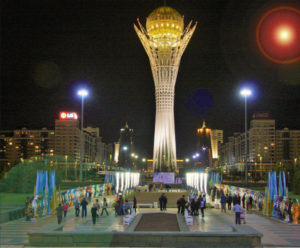 The largest demographic in Central Asia, Kazakhstan has approximately 18.6 million people and on average see 0.8 movies per year according to market reports published since 2017. Not surprisingly, it took years of post-independence governing and revitalizing the economy after decades of a repressed atmosphere to meet 21st century technology standards. Their plight was no different from neighboring republics, however Kazakhstan today has over 78 state-of-the-art digital projection theatres, with over 60% of them 3D capable. Specific goals include the introduction of legislation in the film industry to create a Law on Cinema to gain direct Ministry support through grants and fiscal incentives to involve more foreign filmmakers and crews.
Uzbekistan boasts the largest population with 33 million people and has begun to accelerate their filmmaking climb by entering for the first time in history, Hot Bread (Issiq non), for Oscar consideration in the 2019 Best International Feature Film category – a monumental step for Uzbekistan's overall exhibition development. The capital, Tashkent, has 16 cinemas and is now a thriving city for movie entertainment. Premiere Hall Cinema promotes their digital multi-screen complex with elaborate signage, which is connected to a bar and a café that facilitate separate entrance to the cinemas. During the summer an external screen is installed outdoors where films are shown for diner's entertainment. Premiere is one of the more popular cinemas and considered a high-end experience.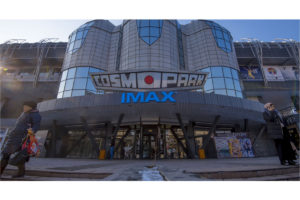 Kyrgyzstan, Tajikistan and Turkmenistan comprise much smaller populations with a combined total of nearly 22 million and, for all intents and purposes, is unchartered markets for exhibition expansion. Prevalent obstacles remain in the region with government structures in global trade, however with the smaller republics now members of the World Trade Organization (WTO), it allows for major structural reforms which signals future readiness to integrate globalization measures. Data shows developing countries international trade rose from 10% in the mid-90's to nearly 30% in past few years. The historical challenges in the region are the resistance to become more liberal, which is essential to boost trade. The key will be regional cooperation for facilitating a joint approach to reinvigorate trade policies. Also, improving access to Central Asia and forging closer links with emerging growth poles including China, India and Pakistan. The real goal is to continue building economic activities that contribute to a diversified and competitive world and with Internet access to millions, content and information access will naturally gravitate younger generations and their pursuits to incorporate more entertainment socialization – already in motion in a device connected world.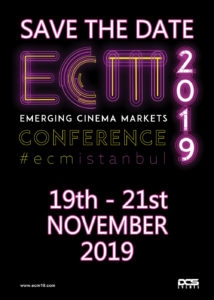 Of the three, Kyrgyzstan is currently the only country that has digital technology and most are part out-of-home family entertainment centers, like COSMOPARK in Bishkek that boasts an alluring IMAX® theatre set inside a modern Russian-influenced architectural complex. Online reviews indicate that both locals and tourists enjoy Hollywood type movies but are eager to see more Kyrgyzstan produced films for the advancement of cinema entertainment, as well as to heighten and promote theatrical arts education and technology programs. Ironically, Kyrgyzstan, unlike Uzbekistan, has submitted Best Foreign Language and International Feature Film entries to the Academy of Motion Pictures and Sciences since 1998, though no nominations thus far. Kyrgyzfilm is part of the region's filmmaking community that has become more involved in Central Asia's film festivals and various forums to keep expanding the country's position as one of the top leading three content creators.
Emerging Cinema Markets (ECM 2019) in Istanbul next month, is part of the inspiration behind our rising nations benchmark series and Central Asia continues to be one of the more curious, if not fascinating and historical discussions. Filmmaking and cinema exhibition are strongly desired in these maturing markets and by having a well-versed assembly of professionals to discuss, we look forward to hearing the future of this region and how cultural ministries, governments and creatives seek to evolve during a rapid-paced digital communications era.
Written for OzSeeker by Laura Peralta-Jones