RISING AFRICA UNIQUELY SOUNDS LIKE A HOLLYWOOD MOVIE TITLE AND WITH ITS RAPIDLY EXPANSIVE AND CHANGING DYNAMICS, AFRICA HAS PROPELLED INTO JOINING THE FASTEST GROWING NATIONS IN CINEMA EXHIBITION. DRIVEN BY DEMOCRATIC MOVEMENT AND BETTER GOVERNANCE WITH ELECTIONS REFLECTING SOCIETAL CHANGE ACROSS SEVERAL COUNTRIES, WE BEGIN THE CINEMATIC BENCHMARK SERIES REVIEWING AFRICA'S VITALITY AND THE PROMISING FORECAST TOWARD ECONOMIC INCLUSION AND EFFICIENCY, ENERGISING GLOBAL ENGAGEMENT.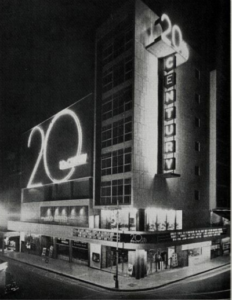 The second largest continent, Africa's economic course was historically challenged by overall governance and century-long imposed structure. Yet, performance statistics in the last decade indicate an upward trajectory due to gender, health, mortality and infrastructure improvements, which are key triumphs lending to economic reforms. Presently, sub-Saharan Africa economies are growing faster than anywhere else in the world, in part, because they're getting connected electronically, accessing information for stable currency, trade, new technologies and social globalization.
Encouraging the cinematic footprint and movie-going experience, Africa's emerging markets have vigorously surfaced with visible and measurable progress. We've watched economic increase through access and utilization of small luxuries like affordable airfare, cultural events, restaurants, increased retail, leisure time and its associated activities, like movie-going, which generates recurrent commerce. Especially, with Hollywood blockbusters and regional content being produced in growing numbers.
A good case study are African film production and distribution groups, such as FilmOne Studios, a Lagos, Nigeria enterprise aligned with Filmhouse Cinemas, prevailing as a modernistic and inventive exhibitor chain and why significant attention has been focused on this region.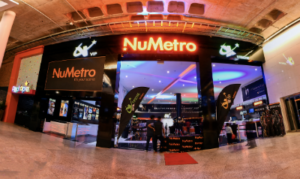 Coupled with the dawn of Nollywood, enough content is produced to release up to four film titles weekly. The emblematic obstacle is the market has less than 200 screens, which also shows Hollywood and Bollywood films. Fortunately, there is growing demand for Nollywood movies in other areas across Nigeria, as well as the continent. Ultimately, this will help pave new roads for leisure developers to build more state-of-the-art cinemas, while also examining secondary tiers for community cinemas that are far less investment outside of prime locations.
FilmHouse Cinemas Limited are a dynamic exhibition enterprise, setting its vision on becoming the number one cinema brand in Nigeria. Their multifaceted cinemas feature advanced digital and 3D technologies, concessions and dessert café, gaming arcade and a kid's club, managed by strong teams and creative marketing campaigns, focusing on the total guest experience. Recognized by NATO (National Association of Theatre Owners) and CinemaCon LLC, two prominent organisations, The Emerging Market Spotlight Award was presented to Kene Okwuosa, CEO, Filmhouse Cinemas and Moses Babatope, Managing Director, FilmOne Distribution and Secretary of the Cinema Exhibitors Association of Nigeria (CEAN) at this year's CinemaCon International Day Luncheon. The award presentation followed Graham King, Producer of Bohemian Rhapsody, honored as the International Filmmaker of the Year, making the event one of the most memorable during the week-long show in Las Vegas.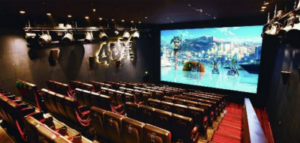 Strengthening the long-term territories common interest, CEAN was formed to address and confront issues that affect a formidable cinema business model and vastly changing commerce. Everything from government relations, taxation, film licensing, classifications, censorship fees, piracy and education.
Genesis Cinemas, part of Genesis Group Nigeria Limited, a hospitality and entertainment entity founded in 1991, has become another premiere exhibition leader. Occupying interests in hotels, restaurants, industrial catering, family entertainment centres and facility management, the Genesis Cinemas brand have grown to 35 screens with around 5,000 seats and their Lagos location was one of the first regional exhibitors to show a film in 3D, The Green Hornet (2011). In June of this year, Genesis Cinemas partnered with CJ 4DPLEX, the South Korean multiplex conglomerate, to introduce ScreenX technologies into six of their locations.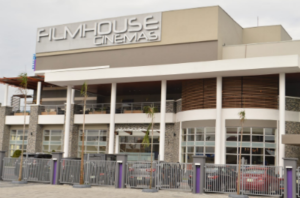 Born from their "customer-centric teams," Viva Cinemas has seven screens with locations in Ibadan, Ilorin, Ota and Enugu with a multi-million dollar expansion effort underway to operate 12 screens by the end of 2020 and 20 screens by 2024; their goal is to compete as one the regions steadfast exhibitors.
Marturion Cinemas, the newest brand that launched in 2018, offers premium and standard guest services in their Igando and Lekki cinemas in Lagos. Maturion plans to open five more cinemas within Lagos and has an ambitious roll-out for one cinema in each of Nigeria's 36 states and capital. Smaller chain, Ozone Cinemas, with six screens respectively, cater to the luxury seating experience and was the first multiplex built on Lagos mainland.
Cultivating other areas of Nigeria and West Africa, well-known Silverbird Cinemas, established in 1980, characterise their brand as "an audacious fast pacing company in the leisure and entertainment industry from its mother ship," that are outwardly the largest west Africa chain with approximately 65 screens spanning over ten locations in four states and three countries (Nigeria, Liberia and Ghana). Referred to as the trailblazers, Silverbird Cinemas have received multiple awards for revolutionising exhibition and continues to maintain 60% market share regionally. Their cinemas reached 10 million guests within five years, earning them a respectable position in cinema worlds.
Moving onto South Africa, exhibition's historical development suffered the unconventional political climate under apartheid. The reference to this region is out of respect to current affirmative actions sanctioned after 1994, and the 1995 undertakings by the new government to boost the country's film industry.
Ster-Kinekor Theatres in Sandton City (Johannesburg Municipality) possess the largest market, which originated in 1969 after 20th Century Fox sold off its South African theatre business to Sanlam, an insurance company already operating under the Ster Films and Ster Theatres brand. Governing regulations mandated film companies to operate independently, hence Kinekor (the company) was created to manage the new acquisition. Though Ster-Kinekor experienced the perils of cyclical economics and both a 1990's European expansion and its subsequent 2003 departure from a recessed European marketplace, it's maintained a strong South African leader. Ster-Kinekor Distribution (SKD) is the distribution arm that spearheads acquisition and marketing for theatrical film content and represents two major Hollywood studios while also acquiring independent content from Cannes and the American Film Market.
Thriving on being cutting-edge pioneers, Nu Metro Cinemas, dates back to 1932 when their first site opened in Johannesburg as Metro Theatre. The company's oldest operation in Bedlford opened in 1972 and still operates today. Changing its brand to Nu Metro Cinemas in 2008, ownership changed several times during an 80-year lifespan. Acknowledged as the first African digital multiplex operators, the company has 24 South African cineplexes and are the second largest regional exhibitor that consistently implement advanced cinema technologies like 4DX, Xtreme and VIP experiences.
Over the rest of the southern region, Silverbird Cinemas operate in Accra and Ghana, with smaller chains like Avalon Group's CineCentre serving local markets. Growth often being dictated by the competition and the state of economic initiatives.
Ultimately, the success of all exhibition is reliant on movies and storytelling must be compelling to drive audience attendance. Across Africa, Black Panther, became the highest grossing film ever and was an exceptional cultural awakening that marked a new era of heroic inspiration never seen before. Marvel's magnificence to create a film that resonated with every black person of African descent, allowed a broader footprint into the continent's role as the oldest habitat of humankind – and where it all began.
Marvel Cinematic Universe and the Black Panther slate of films in the franchise, helps to galvanize cinema expansion to meet increasing entertainment and relatable content demands. Outside Hollywood blockbusters, some African filmmakers believe all content needs to be distributed inside Africa for greater appreciation by its billion-plus people. Adze Ugah, a Nigerian-born, South African-based filmmaker, shared during a February interview, talks were brewing for a pan-African cinema network for the purpose of showing affordable movies to the masses. Indicating more progress is necessary between the exhibition and filmmaking relationships.
Africa's landmark achievements and box-office milestones sparked a host of announcements. Most noteworthy with Comscore, an industry leader and third-party source for comprehensive and reliable cross-platform measurement. Last May, the company publicised they will provide box-office measurement data for nine new African countries across the West and Southern regions, where Nigeria is the seventh most populous global region (195 million); and South Africa the fourth largest (54 million). Comscore intends to capture more than 95% of all revenue and admissions in each of the nine countries that will markedly prepare future growth analysis.
This November, the Emerging Cinema Markets conference (ECM 2019) organized by Digital Cinema Solutions (DCS) Events and The Big Picture consultancy, will have top experts in leisure development and cinema exhibition focusing on the progressive expansion throughout Africa and other emergent countries and this series is a small insight into various topics to be presented.
Economics are not utopian; however, projections are based upon principles that have worked for the last century. Movie-going ventures could be considered not only the highest economic value to Africa's sustainability, it vindicates overall progress on philanthropic levels tied to 21st century advancements that continue to navigate the movie industry worldwide.